Our Termite Inspection Professionals will examine the structure for termite or other wood destroying pest activity. EnviroTech services the Tulsa, Broken Arrow, Bixby, Coweta and Jenks metro.
Termite Inspection and Termite Infestation Levels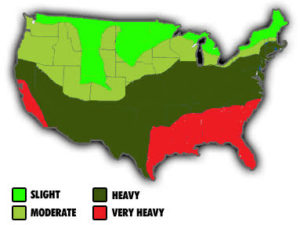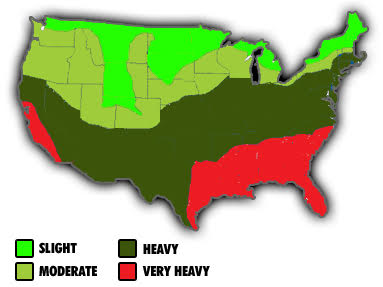 A Termite Inspection Can Save You Money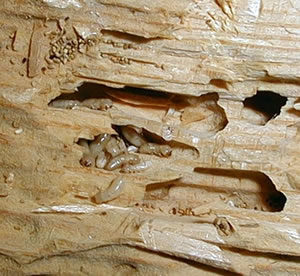 An inspection may be a Full inspection (where all accessible parts of the structure are inspected), or it may be a Limited inspection. This page explains the difference and what it means to you. If you are in the process of buying a home EnviroTech provides lender required reports. More on that below!
What Is a Termite Inspection?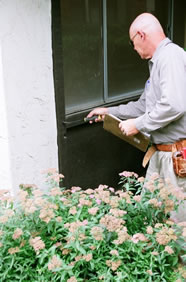 First, please understand that there really is no such thing as a "termite" inspection. The inspections done by Structural Pest Control Operators (like us) are more correctly called Wood Destroying Insect "Organisms" Reports. Our inspections are closely regulated by the Department of Agriculture. The scope of the inspection is defined by the state law.
We are licensed experts in the identification and control of wood destroying pests. Our inspection report may include information on termites, wood destroying beetles, carpenter ants and carpenter bees. It may also include information about damage done by these pests. The report may include information about conditions around or in the building that may potentially lead to a problem with these insects or organisms.
Realtor, Real Estate Inspection Services
EnviroTech Exterminating Offers Solutions to Wood Destroying Insects, Wood Damage and Wood Rot Repair. EnviroTech can provide the lender required, Oklahoma Termite & Wood Destroying Insect Report "AKA" Form ODAFF-1 & ODAFF-2 for Real Estate Transactions. If you're a Veteran and need the inspection report for a VA Loan, HUD we also offer the NPMA-33. Optional inspection reports are available for wood rot. The wood rot report does have an additional charge but may be necessary if a buyer is asking for seller repairs associated with wood rot.
EnviroTech will examine the structure looking for signs of activity. We use cameras capable of getting in areas where we can't to examine the hard to see areas. These areas may be locations such as behind hot water tanks, behind an HVAC system in a closet. The interior of the structure is examined looking for activity such as termite frass, tubes, tunneling and spotting. We also look for wood shavings, bored holes, insect activity from other wood destroying insects. The exterior is also examined and includes the garage structure. If additional buildings are needing checked please tell the inspector. We want to provide our clients the best inspection possible.
Real Estate ODAFF1 & NPMA-33 Inspections
Wood Rot Inspection available upon request.
Why Realtor's Should Use EnviroTech Exterminating?
Locally Owned and Operated
Professional and Experienced
Competitive Pricing
Quick Service Times to Meet Transaction Requirements
Competent Dealing with Buyer and Seller Needs
Termite Treatments with Fipronil – "Termidor, Fuse, Taurus"
Termite Baiting Systems by BASF Trelona Advance
Free Termite Treatment Estimates
It's not every day a person needs termite services but If you need an estimate for a termite treatment or termite control we're happy to help. Our termite professionals will measure the building, inspect the termite activity and provide a competitive price quote for proper treatment. A plan will be put in place to help keep your home safe from termite pests for many years to come. In some cases, we may issue a limited inspection report with a quote. A limited report is not acceptable for real estate transactions.
In some cases, we cannot provide a complete or accurate quote for service without doing a full inspection of the building. This is most common in older buildings, crawl space homes, buildings that have been remodeled extensively, or where our inspector believes treatment or accessibility may be limited or difficult. If our inspector cannot provide a complete or accurate quote without doing a full inspection you will be given the option of accepting a provisional quote for service (subject to modification after a full inspection is done), or you may authorize us to proceed with a full inspection of the building. There will be an inspection fee charged for a full inspection. However, we won't do any work that will result in a charge without your prior authorization.
If a termite treatment is necessary we can help. A treatment can help to save your home or property from extensive termite damage. Contact EnviroTech today about your termite service needs at (918) 282-7621.