EnviroTech Exterminating is the local area expert in skunk removal services. We can safely remove these animals. Our nuisance wildlife services are available for residential, industrial and commercial properties owners in Broken Arrow, Bixby, Jenks, Tulsa and Coweta, Oklahoma
Skunk Removal and Skunk Control Services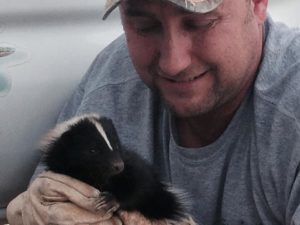 EnviroTech Exterminating is a local expert in Skunk Control and Skunk Removal Services. We offer humane wildlife removal services and can provide cleanup, sanitation and sterilization of the affected areas after removal. Other services available include inspection services and exclusion of entry points. EnviroTech provides services to residential, commercial and industrial properties in the Broken Arrow, Tulsa, Jenks, Bixby and Coweta metro area. Professional, courteous service from people who care!
For Service Call (918) 282-7621
EnviroTech Specializes in:
Skunk Removal Services
Skunk Control
Skunks in Crawlspace
Skunk Damaged Insulation
Skunks in Shed
Skunks in Yard
Exclusions
Animal Damage Repairs
EnviroTech offers Skunk and Nuisance Wildlife Removal.
We specialize in Wildlife Removal, Wildlife Control and Management which includes Skunk Removal, Skunk Control and Skunk Exclusion work. We remove wildlife pests in a humane manner. We can even offer to clean up the mess they may have left behind and repair any damage these wildlife nuisance animal creatures have caused to your home as part of the Exclusions work.
EnviroTech is a full-service Skunk Removal Company that will assist you with problems caused by Skunks, At EnviroTech we love animals and we accept the challenge so give us a call at (918) 282-7621. Our experience includes Wildlife Management, Skunk Control, Skunk Removal, Odor Neutralization and more services in the metro areas including Broken Arrow, Jenks, Bixby, Coweta, OK.
Most of our Exclusions work is guaranteed for up to a year against animal re-entry. We also provide Dead Skunk Removal, Skunk Control, Skunk Cleanup and other services that make us one of the most complete wildlife removal companies in Oklahoma.
We are one of a few Wildlife Companies with an Oklahoma Nuisance Wildlife Removal Permit from the State of Oklahoma.
Skunk Information: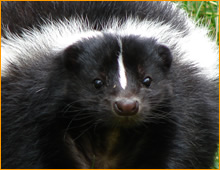 Skunks are slow-moving mammals and members of the weasel family, commonly identified by their jet-black fur with one or more white stripes running down their backs. The coloration on these mammals may vary from animal to animal. One skunk species the hooded skunk looks as though it is wearing a hood, with neck hair spread out into a ruff. Other skunks are spotted instead of striped.
Humans are often frightened by the site of skunks because of their ability to spray a foul and pungent skunk odor to defend against predators. A striped skunk will be about as big as a house cat and very shy.
How to get rid of Skunks?
Skunk Removal and Control can be frustrating if you do not have the knowledge and tools it's about impossible without being sprayed by these beautiful animals. The most common problems associated with skunks are the damage they do as they dig in the yards and under structures or even your home. They will mark their territory and spray you if they feel threatened. Do not approach a skunk and do not handle skunks. These pests are known vectors of Rabies. Call a professional immediately.
Skunks should always be removed by a certified nuisance wildlife professional as they can carry disease as well as spray you. The stink from the spray of a Skunk can last a very long time. Skunks are very smart and alert nuisance animal creatures, making them somewhat difficult to trap or remove.
Skunks are unwanted visitors. Make sure your family is safe. Contact EnviroTech about Nuisance Wildlife Animal Removal Services at (918) 282-7621.