Cockroaches, are one of the most common insect pests in the Tulsa and Broken Arrow metro area. Roaches are repulsive and carry disease-causing organisms. A Professional Cockroach Service Plan is the best means of controlling these pests.
EnviroTech – Pest Control on a whole 'nother level…
Cockroaches are capable of mechanically transmitting disease organisms such as bacteria, which can cause food poisoning. Recent studies have proven that cockroaches have been found to be a high source of allergy in people, with only house dust causing more allergy issues. Even worse is the effects Cockroaches can have on people that deal with Asthma. A professional cockroach treatment service plan can help relieve some of this by reducing the number of cockroaches in the dwelling. You don't want to stop at just controlling numbers of these pests, you want to annihilate these pests. This is why EnviroTech's the perfect choice.
We go where others don't with a DEEP HARBORAGE TREATMENT. Why should this matter to you? Well, these are the places cockroaches and other pests like to hide, It's also where conventional methods of treatment fail. Going where other's won't or can't go means quicker knockdown of high populations and faster control of these disgusting pests.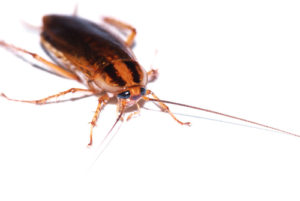 When it comes to Cockroaches you need a Professional not some run of the mill exterminator. The last thing you want is incompetence. If you have cockroaches you need a service provider that strives to be the best. EnviroTech is owner operated using state of the art equipment. We have the knowledge, experience and proper tools to help you with any pest problem.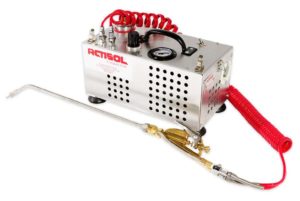 EnviroTech offer's a truly effective and efficient treatment plan that works where other's fail. It all starts with choosing the right company. Our plan uses a multifaceted approach with the best products science has to offer. EnviroTech uses actisol machines to get where other simply cannot go. An actisol machine is a must for heavy infestations or for getting quicker control in any size infestation. It allow's deep crack and crevice treatment of harborage places cockroaches love. We offer treatment using this equipment, most of our competition doesn't.
"Our multifaceted service plan will help gain control of these pests in a quick, efficient manner".  Owner/Operator – Billy Howard
Why EnviroTech's The Smart Choice
    DEEP HARBORAGE Pest Control with Actisol Machines
    Inside and outside perimeters with every service including entry points, weep holes and window sills
    Baiting containing an IGR "Insect Growth Regulator" to curb reproductivity
    We advise of sanitation issues and make recommendations for the client
    EnviroTech uses the best products science has to offer
All these services assures you the most comprehensive and complete treatment available. It's a flush out service to the extreme.
This treatment plan is both aggressive in nature and provides quick relief or knockdown power. Combining a quick knockdown with the IGR baits helps curb reproductivity much faster than our competition can. How do we know this you might ask?  We end up with many of our competitions customer's.
It's All In The Quality Of Service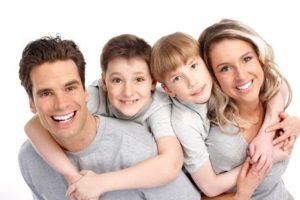 All products EnviroTech uses are EPA approved and are of the highest quality. Our service will reduce the population levels and reduce reproduction levels. By using this multifaceted approach you can say goodbye to the roach problem. These tactics work very well and by using our "IPM" Integrated Pest Management plan, your cockroaches can be controlled as quickly as possible. Of course when it comes to cockroaches all infestations are different with some more severe. The level of cockroach activity will have much to do with how long the aggressive treatments will be necessary. Once controlled we begin a regular maintenance phase of services to assure you never have this problem again.
With cockroaches combining or treatments and proper sanitation is the best way to control these pests. EnviroTech will be happy to inspect the property, advise on issues found and provide the proper treatment services the structure needs. We do however reserve the right to cancel any treatment services for those that fail to follow our plans directions. Sanitation is of the utmost importance when trying to gain control of a cockroach problem. For these reasons all the pest control alone cannot fix a situation where the structure is not kept sanitary. We request the property be kept tidy and clutter free.
Household Cockroaches in Oklahoma
Oriental Cockroach
German Cockroach
American Cockroach
Brownbanded Cockroach
Smokeybrown Cockroach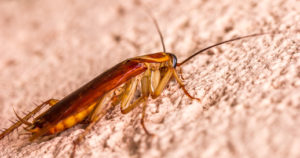 Cockroaches typically become established in homes after being introduced in grocery bags, garage sale items, laundry or in some cases, from outdoors. Cockroaches are prolific breeders capable of producing several thousand roach offspring in a single year. Unlike many household pests, cockroaches are prevalent year-round, causing homeowners and businesses to eventually seek some form of pest control for these disease spreading pests. Cockroaches don't go away without being exterminated.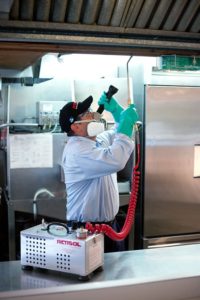 Like most pests cockroaches are continuously looking to infest homes, food service establishments and other structures that provide food, water and shelter. These pests have changed very little in their over 400 million year history. Cockroaches need the same essential things people need. Once cockroaches are in the home getting an infestation under control can be difficult. EnviroTech has the knowledge and skill to get roaches quickly controlled.
In most cockroach infestations, multiple treatments will be necessary. Our multifaceted approach to cockroach treatment assures you of the quickest control possible. Less foul odor from dander and a more inviting atmosphere due to the reduction of roach population.
EnviroTech Exterminating is locally owned and operated in Broken Arrow, Oklahoma. Our pest control services are provided in the local Broken Arrow, Jenks and Bixby metro areas. Call (918) 282-7621 To Schedule Service.