At EnviroTech 
We Don't Just Kill Bed Bugs, We Annihilate Them…

 Bed Bug Heat Treatment Services Guaranteed*
Broken Arrow, Jenks, Bixby, Coweta and Tulsa Bed Bug Treatment Services. Heat with Chemical Treatment Options and Guaranteed Results
Free Bed Bug Consultation… Call (918) 282-7621 Today!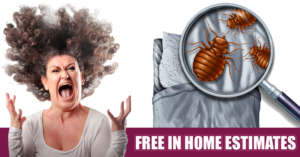 Bed bugs are one of the top pest problems in the Tulsa and Broken Arrow Metro area. These pests are tough to control but not tough enough for our specialized bed bug treatment services!  EnviroTech is Master Heat Technician Certified. We bring the HEAT and lots of it!  With a proper thermal heat treatment, bed bugs are eradicated at all stages of their life cycle.  This is important because bed bugs and eggs can be hidden anywhere.
EnviroTech can heat the entire dwelling all at once making the entire dwelling inhospitable to bed bugs and bed bug eggs. Our professional heat treatment equipment provides the ultimate in flexibility and versatility. This equipment allows us to treat regardless of structure type and outside weather conditions. EnviroTech can treat larger homes, smaller homes, studio apartments, clinics, offices, commercial facilities and more. A Huge Plus: Our heat treatment is held at thermal thresholds longer then what our competition does for the highest success rates in Tulsa. An EnviroTech heat treatment is truly efficient, highly effective and safer for pets and family.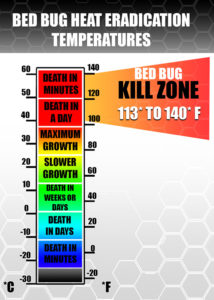 WHY HEAT: University studies show heat to be the most effective means of eradication of bed bugs. Another fact, a heat treatment provides the quickest relief from bed bug pests. Pesticides alone may require numerous treatments and inconveniences. A EnviroTech heat treatment provides the fast relief you desire and a protective residual application afterwords, protection in case you bring home another bed bug.
Take Note: BUYER BEWARE… There is a new trend of Unlicensed, Uninsured companies that are not registered with the Oklahoma Department of Agriculture. Protect yourself and request a license number.
Why Choose EnviroTech Exterminating
We don't just kill bed bugs –

We Annihilate Bed Bugs

Free In Home Consultation and Estimates
Local experts in bed bug services with years of experience using heat to treat these pests
Owner Operated so every job is performed to our high standards
EnviroTech is fully licensed and insured
Unmatched quality of work for a truly superior treatment
We are Master Heat Treatment Certified and use state of the art heat equipment and processes
Our Thermal Heat Process eliminates all 3 stage's (egg, nymph and adult) of bed bugs lifecycle 
EnviroTech Exterminating GUARANTEE'S Our Heat Treatment Service for 60 Day's*
We CARE! Our Bed Bug Clients have the benefit of our years of experience, consultation and service that doesn't end after the treatment
How Did I Get Bed Bugs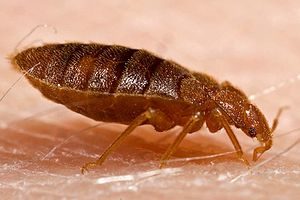 Bed Bugs are spread by people. It doesn't take much to bring home bed bugs. These parasitic pests migrate in homes from room to room following the carbon dioxide you exhale. If you move to a different room, bed bugs will follow.
Bed bugs can be picked up anywhere people visit. Such places include hotels, laundry mats, a movie theater, virtually any place people go. Even children can bring bed bugs home from school or a daycare facility. We find bed bugs in backpacks, in suitcases, on clothing and in vehicles. Basically no place is immune from getting bed bugs.
To beat bed bugs you must reduce and/or eliminate any chances of reintroducing these pests into your home. If you know people with bedbugs, keeping them out of your home is the first step.
Important Things to Know
Bedbugs reproduce quickly
Bed bugs hide in clutter
Bed bugs hitchhike from place to place on people and in people's belongings.
Each adult female bedbug lay's 2-5 eggs per day and up to 500 in her lifetime.
Bedbugs detect carbon dioxide so they easily migrate from room to room searching for a host.
These blood sucking insects will follow you around the home like a mosquito only they can't fly.
Bedbugs prefer to be as close to their human host as possible
Bed bugs will drop from ceilings, hide in cracks and crevices, seams of mattresses, box springs
ADVICE: DO NOT bring home used beds, bedding or furniture without first inspecting.  If you do, you may find yourself needing a bed bug treatment. Used mattresses, boxsprings are high risk. We have treated many homes where bedbugs were introduced by a used sofa, chair or mattress. Be very careful what you bring into the home. If you see spotting on furniture that you're considering buying, think twice. If you know somebody with bedbugs, spending time with them will likely lead to you getting a bed bug infestation. These insects are incredibly easy to spread. Just walking into an infested home can be enough to pick up the tacky and sticky eggs of bedbugs.
EnviroTech Offers Flexible Treatment Options
Heat/Chemical, up to 2.25 Million BTUs Heat Power
Heat/Green Chemical, up to 2.25 Million BTU's Heat Power
Chemical Residuals
Affordable Follow-Up
Service Plans – Post Treatment
EnviroTech Heat Treatment = Guaranteed Results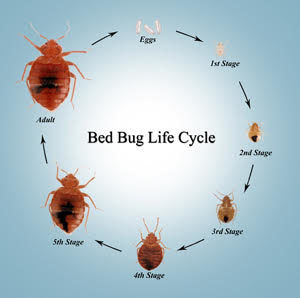 It seems like you hear about bedbugs everywhere. We see stories on the news, in the paper, online and on social media. Tulsa, Broken Arrow, Coweta, Jenks and Bixby have been hit hard by the recent rise in Bed Bugs. These pests were controlled during the 50's 60's but in 1972 DDT was banned. This product has not been replaced by any product that works like DDT did.  Bed Bugs have since made a huge comeback. Numerous chemical products have been overused and with this means resistance. The current bed bug crisis is not being controlled due to this pesticide resistance problem.
The good news, bed bugs can be defeated! EnviroTech Exterminating has successfully eradicated bed bugs in hundreds of homes and businesses. Our years of bed bug experience and our heat treatment process is a bed bugs worst nightmare.
Prior to your service, we recommended you follow a bed bug plan to prepare for the bed bug treatment. A successful service can only be done with proper preparation.
How to Prepare for Your Bed Bug Treatment
Before EnviroTech can treat a home or structure you must prepare the property for service. Listed below are the basics necessary. EnviroTech will provide a checklist/bed bug preparation sheet during our Free Consultation. You can also see one in the link below.  You are also welcome to call (918) 282-7621 and have it emailed.
Strip Beds
Remove all sheets, blankets, mattress covers, pillowcases, etc. from your beds, wash and use the hot dry cycle. We recommend two dry cycles in a row to get the right length of time needed to kill eggs and adult bedbugs. When done fold and place items in plastic garbage bags and remove from the home. Try not to fold and leave them exposed to the furniture as all it takes is one bed bug to crawl in the items and a re-infestation could occur. Seal the bag up like a loaf of bread is sealed. Pillows can typically stay in the bedroom.
Remove Clutter From Bedrooms and Hall Closets
Closets must be empty if doing a chemical treatment or tidy for a heat treatment. We like to use the concept of the 50% rule when using heat. You can have clothing hanging in closets as long as they only fill up 50% or less of the closet space. These will be spread apart for optimal heat air flow. This applies to dresser drawers, closets and nightstand drawers as well. The Exterminator or pest control operator needs easy access to these areas for proper heat distribution and circulation. If you're serious about exterminating bed bugs don't skip these steps.
Wash ALL Clothing, Towels and Linens
If doing only a chemical treatment this is an absolute must… This means everything… and place the clean items inside plastic storage bins or plastic garbage bags. Don't let these items sit on the bed or couch while folding. The garage or back patio could be used to store bagged items. Skipping this step could mean potential trouble later. It could mean another bed bug treatment is necessary. If doing a Heat Treatment you can bypass much of this step. We will go over this during the Free Consultation.
Vacuum
We want a clean, tidy environment for treatment. Vacuum all floors and dispose of the vacuum bag, do not leave bag in the home. Bed bug nymphs and eggs may be present in the bag of the vacuum. It would also be wise to clean the vacuum and disinfect it after use. If the vacuum comes apart feel free to do so and leave for the heat treatment. Clean and vacuum car seats and carpets regularly.
Provide Access for Pest Control Technician
The pest control technician needs easy access to all closets and rooms. If possible, move bedroom and household furniture away from walls so there is one foot or more of space between furniture and walls. Depending on the level of infestation it may necessary to remove wall light switch and electrical outlet covers so the wall sockets can be treated. We can discuss this during our initial consultation.
Other Important Things
No People or Pets can be in the home during the service. If you have pets with litter boxes please empty, clean and remove them. The dust from litter goes airborne during treatment. Bed Bug Encasements are necessary and is the clients responsibility. Bed Bug encasements can be purchased at most larger department stores that sell bedding. Don't waste money on plastic covers, buy the fabric encasements that are machine washable and say Bed Bug Certified on the label. *** Plastic mini blinds should be pulled up and removed from the wall ***  Set the mini blinds in the window sills. This will allow treatment of them but reduce chances of warping. Remove all plants, aerosol products such as hair spray, flammables, lighters, alkaline batteries, prescription drugs and candles.
The Vehicle
Cars, truck, SUV's and other modes of transportation can become infested with bed bugs. If you have these pests at home you may have them in a vehicle. It's important to vacuum the vehicle regularly. Vacuum under seats, the seats, the mats, the trim, the carpets and any cracks and crevices. It may be necessary to treat the vehicle. We can discuss this during our consultation.
Bed Bug Prevention
At EnviroTech we are happy to talk to schools, businesses and housing facilities, clinics and anybody about bed bugs and bed bug prevention. Prevention is alway's better then having to deal with these pests so knowing things you can do to reduce the chances of getting bed bugs helps. We gladly offer to meet with apartment management, hotel management, anybody that may be concerned about prevention.
Bed Bugs can be picked up anywhere. In libraries, hotels, public facilities like courthouses, laundry mats, our children's schools, daycare facilities and even cars. You take a ride in a taxi, go see a movie at a theater, go have dinner somewhere. We are all put at risk anytime somebody with bedbugs visits any of these places. Of course we can't avoid these places, we just need to take precautions to reduce the risk of exposure.
When traveling alway's check the hotel for bed bugs. look at the corners of the bed and inspect for any signs of activity which could include live bugs, dark stains or spotting. Ask the hotel if they have a Bed Bug program in place and when the room you are staying in was last inspected. Check the furniture near the bed and keep clothing off the bed, hanging on a metal clothes rack is best. Use plastic bags or zip lock bags to store things in. When returning home wash all clothing and inspect any baggage, suitcases.
When going out look at chairs casually without bringing attention to yourself for anything that looks suspicious. If the seat has tears in fabrics take caution. Inspect backpacks if children use them at school or daycare. Just being aware and paying attention can help go a long way in reducing the chances of bed bugs becoming a problem for you.
Guaranteed Results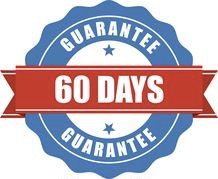 EnviroTech Exterminating guarantees our heat treatment services for 60 day's post treatment. It's your hard earned money, make sure you pick a company that stands behind their services. Follow our plan, complete our prep/checklist and will take care of the rest. With an EnviroTech Heat Treatment Program you can rest assured we will take care of the problem. Our success rate is among the highest in the industry.
* 60 day program "post treatment plan" services. Client is required to have certified bed bug encasements free of rips or tears on all mattresses and box springs, maintain a clutter free dwelling and follow programs requirements. These services may require residual applications and inspection to minimize clients possibilities/risk of re-infestation. Some homes may not qualify for this program. Some homes based on age, build construction, duration of infestation may need additional services.
We reserve the right to refuse service to anybody that refuses to prepare the structure as required and recommended.
Don't Take A Risk With No Guarantee!
Call EnviroTech Exterminating at (918) 282-7621 for a confidential bed bug consultation. Get your treatment scheduled today…
Resources:
EnviroTech Bed Bug Heat Treatment Service Area's Include Tulsa, Broken Arrow, Bixby, Jenks, Owasso, Claremore, Coweta, Muskogee, Haskell, Sapulpa, Sand Springs, Glenpool, and other local Tulsa metro cities. We do travel outside this treatment area for a minimal additional trip fee.